10KW Series

【Brief】:10KW Series PM Coreless Disc Genrator
Place of Origin: Shanghai, China (Mainland)
Brand Name: Sicea
Power: 10KW
Rated Speed: 300 rpm
Application: Wind turbine/Hydro Power/Aerospace/Robotics/The Drilling Tool Systems
Generator type: 3Phase Permanent Magnent Genenerator
【Series】:Coreless Disc Generator
Products Description
Coreless Disc Permanent Magnetic Generator

Products Parameters
| | |
| --- | --- |
| Model | 237DM1301-01 |
| Rated Power(W) | 10KW |
| Rated Speed(rpm) | 300rpm |
| Rectified DC Voltage(V ) | 230V |
| Gen. Output Voltage | AC ( 3 Pole ) |
| Rotor | Permanent magnet type ( outer rotor ) |
| Stator | Coreless type |
| Efficiency (η) | 93% |
| Start Torque (N·m) | < 0.5 |
| Gen.Weight (Kg) | 135Kg |
| Gen. Diameter (mm) | 602mm |
| Housing Material | Steel |
Outer rotor coreless multimode generator
This generator features an outer rotor structure that allows rotation of a magnet and coreless design that eliminates an iron core. The generator achieves noise-free rotation, together with extreme smoothness. Since the generator is free of electrically contacted components, there is no cause of cogging or core damage. In addition, the multimode design can generate high voltage even at minimum rotating speeds and realize high-power output and improved efficiency in the range from low to high wind or flow velocities.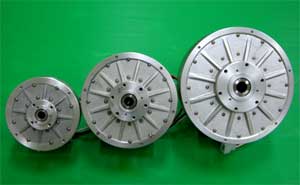 The generator ensures safe operation under strong wind or flow conditions
The generator is so safety-designed that it can endure continuous braking even during high-speed rotation under strong wind or flow conditions. The pole-top bearing made of corrosion resistant aluminum alloy is designed by utilizing the unique technology used which ruggedly supports the generator shaft, providing the highest levels of safety even under strong wind or flow conditions.
The generator has a powerful brake system
The electric (electromagnetic) brake system of the generator permits trouble and wear-free operation even during continuous operation and thus ensures the highest safety. The brake system can safely decelerate the generator even when it is necessary to rapidly stop the generator while rotating at more than rated speed.
Feature
(1)Voltage tuned on customer request
(2)25 years life design,long using life
(3)NdFeB Magnets
(4)Outer rotor disc
(5) IP55 protection grade, generator completely closed, high reliability
(6) Low friction bearings,low start torque
(7) Nominal speed ~300rpm, low speed, max. speed up to 3500 rpm
(8) No cogging torque
(9)Efficiency > 90%,Low-speed and high efficient
(10)Good heat dissipation effect
(11)Low noise level.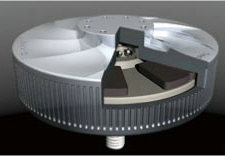 P
roducts
Application
Wind turbine
The wind turbine using coreless disc generator is the most advanced, high-efficiency, low-noise and new style, which provides nature, clean and green power system to the city, village, road, tunnel, building, park, aquare, battalion and so on. The coreless disc generator c can make the turbine start to spin in the case of 1m/s wind speed, and almost no sound of silence. Its fully automated brakeing system can shut down the operation under strong winds to ensure the safty of the use of the product.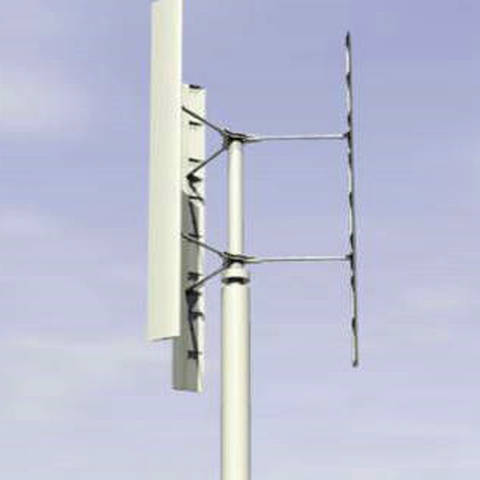 Hydroelectric power
In the rich of water resource area, if adopting high efficient,coreless disc generators shall make full use of local natural resources to solve people's lives, and without destroying the natural environment, meanwhile, but also beautify the environment, and become a beautiful landscape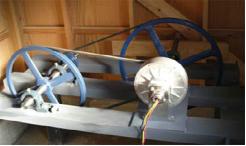 Aerospace
Robotics
The Drilling Tool Systems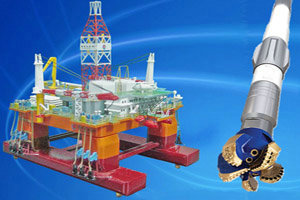 Related Products