Brushless Motor 110mm Series

【Brief】:

Place of Orgin: China

Brand Name: Sicea

Model Number: 110mm Series

Type: Gear Box

Application:Boat, Car, Electric Bicycle, Fan, Home Appliance, CNC Machine Tools

Certication: CCC, CE ISO9001

Construction: Permanent Magnet

Protect Feature: Waterproof

Speed(rpm): 2000-8000 rpm

Length: 125-210mm

Supply Ability: 50000 Piece/Pieces per Month

Package Details: Standard Packaging Suitable for Long-distance Transportation

【Series】:Brushless DC Motor
Brushless Motor 42mm Series
1. Product Description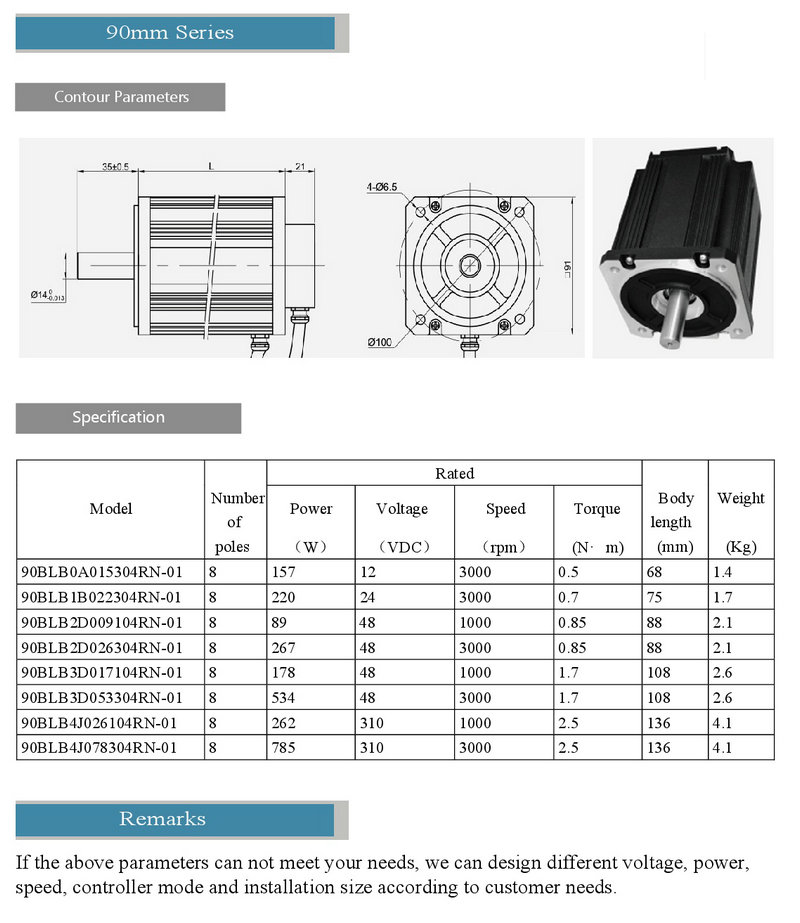 2. Introduction
Feature of BLDC Motor
BLDC motor has advantages of high power density, small moment of inertia, quick reaction, long life, high efficiency, low interference, and so on. So they're widely used in application of high-performance motion control with small power, CNC Machine, Air protection, the medical field, Hand tools, Industrial control, home appliance, etc. Many AC motors and brush DC motors have been substituted by BLDC motors with increasing request of energy saving. Sideband of BLDC motor will increase quickly.
Steady Torque and Speed
BLDC retains the mechanical characteristics of DC motor is good, at the same time using a variety of electronic control technology, so that the motor can adapt to various motion control requirements, such as with a constant speed operation system closed loop control, as well as the soft-start motor control, fast braking control, and has multiple protection functions, such as overvoltage, undervoltage, overcurrent, overheating, lack of phase, no sense and feeling compatible.
Energy Conservation
Permanent magnet rotor brushless DC motor with high performance, higher than the DC motor efficiency, and can greatly reduce the amount of copper, iron, saving more and more environmental protection.
No Spark and Low Noise
There's no brush and commutator in BLDC motor, avoiding spark, noise, bad maintenance and hard to use in bad ambient.
Match Multiplicative Reducer
BLDC motor can match to tower reducer, worm gearbox and so on with different type of output shaft for kinds of application.
Common Motor Data
1. Insulation Class : Class B & Class F is OK.
2. Protection Class: Standard motor can fit for IP40, According for your need, we can supply IP65.
3. Work Duty: Our standard work duty is S1(Continuous) , and you can pick S2,or S3.
Related Products