Standard Hybrid Stepper Motor 35HS Series (1.8 Degree)

【Brief】:

Place of Orgin: China

Brand Name: Sicea

Model Number: 35HS Series (1.8 Degree)

Phase: 2

Type: Hybrid

Length: 33mm

Supply Ability: 50000 Piece/Pieces per Month

Package Details: Standard Packaging Suitable for Long-distance Transportation




【Series】:Stepper Motor
Standard Hybrid Stepper Motors 35HS Series (1.8 Degree)
1. Product Description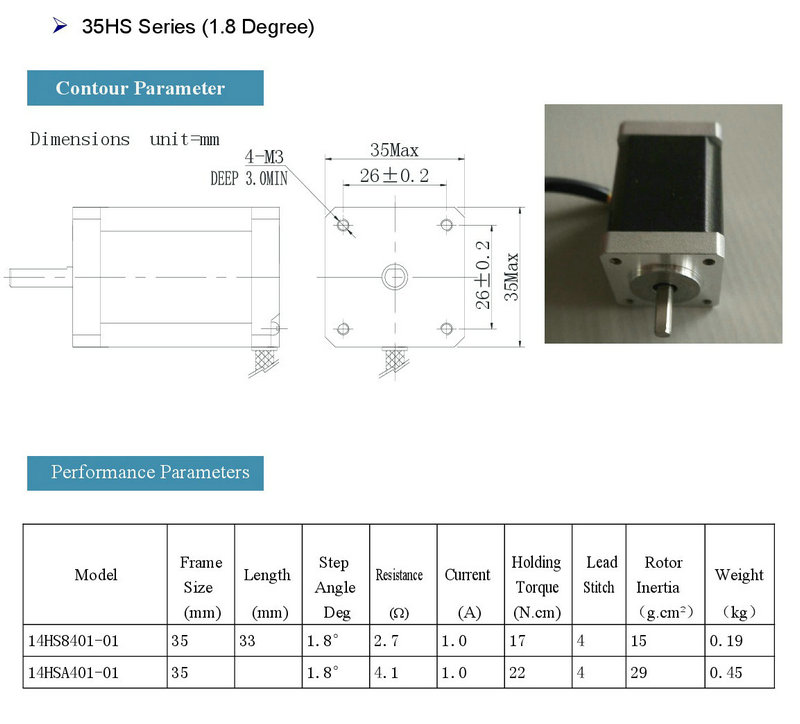 2. Introduction
Hybrid Stepper Motors
The hybrid stepping motor is a stepping motor designed to combine the advantages of permanent magnet and reactive. It is divided into two-phase, three-phase and five-phase. The two-phase step angle is generally 0.9 degrees and 1.8 degrees, the three-phase step angle is generally 1.2 degrees, and the five-phase step angle is generally 0.72 degrees. Hybrid stepper motors excel in torque, speed, resolution, and more.

With years of experience in design, development, manufacturing and marketing of stepper motors, we can supply a wide range of stepper motor products with different phase and step angle options. The company's hybrid stepping motors include: standard hybrid stepping motors, torque-enhanced hybrid stepping motors, high-precision hybrid stepping motors, smooth hybrid stepping motors, and anti-corrosion hybrid stepping motors.
Standard Hybrid Stepper Motors
2-phase 1.8° series hybrid stepping motor is a popular stepping product on the market. Sicea has stepping motors of 35mm, 39mm, 42mm, 56mm, 60mm, 86 mm, 110mm and other bases in this series,covering the needs of most customers for stepper motor products, the new generation of stepper motors has undergone a series of optimizations, improvements, performance and value have been greatly improved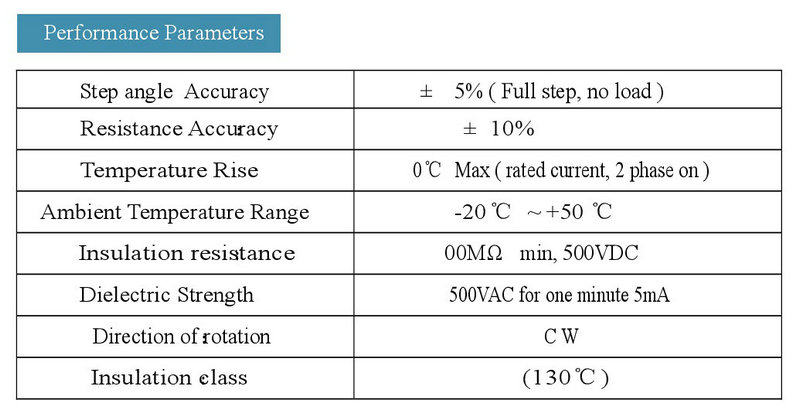 3. Application
The company's stepper motors are well-known at home and abroad for their high quality, performance and unique design. They are widely used in professional printing equipment, intelligent stage lighting equipment, textile machinery, banking equipment, industrial automation, LED production lines, electronic equipment, semiconductor equipment, medical equipment, measuring equipment and other fields.
4. Others Series
Power Plus Hybrid Stepper Motors
Compared with the standard hybrid stepper motor of the same volume, the torque-enhanced hybrid stepper motor using the company's torque enhancement technology can increase the output torque of the motor by 25% up to40% in the full speed range for the special application of the customer. This torque enhancement technology is achieved by increasing the efficiency of the motor without the need to increase the input voltage or input current
Smooth Hybrid Stepper Motors
The torque fluctuation is small and the operation is smooth. It is suitable for applications where quietness and noise are required. At the same time, the outdoor environment of the injection molding motor will have better corrosion resistance. It can be moved very accurately with a step angle of 0.9°, which can be used with a differential stepper drive to achieve a fine subdivision step angle.
Anti-corrosion Hybrid Stepper Motors
By attaching a protective coating to the inside and outside of the motor through special treatment technology, it can effectively prevent corrosion and rust and prolong the service life of the motor.
1. Anti-corrosion design from the inside out.
2. Pass the long-term anti-salt test.
3. Widely used in aviation, freight, automotive, communications, solar equipment, etc.
Related Products